50 Great Blogs & Links for Autism Teachers
With one out of about every 150 children suffering from one of the Autism spectrum disorders, everyone is sure to be affected by it. Parents, families, and more are all struggling to deal with raising a happy and healthy autistic child. With more and more teachers also being exposed to ASD, sometimes textbooks on it are not enough.
To help make sense of it all, we have gathered 50 great blogs and links for Autism teachers. They are written by experts, parents, teachers, and even those who suffer from some sort of ASD. Get a real look at the faces and voices of Autism by having a look at the below.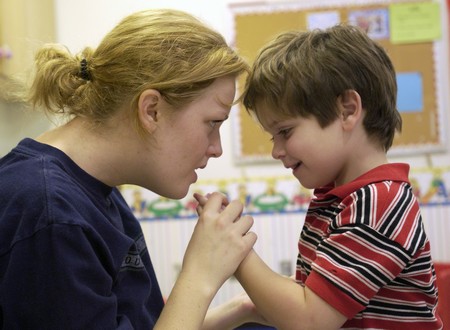 Great Blogs & Links for Autism Teachers by a Professional
These experts in Autism have loads to say about it via blog.
1. Autism Speaks
This site remains one of the leading advocates for those with Autism. Learning the signs and getting the latest headlines are just some of the topics featured here. There is also an active community both online and traditional.

2. AspieWeb
The author of this site believes too much negative time is spent on autism spectrum disorders. With a focus on the positive, they provide news and useful resources. Be sure to check out the Resource Guide with more.
3. Autism Support Network
This is the ongoing story of Buckholtz's life as a multi-platinum record producer, songwriter, and founder of a non-profit aimed at directly assisting families coping with autism, all while coping with Asperger's Syndrome and OCD. He shares some of the thinking processes, behaviors, and experiences here. There are many useful entries for teachers, such as how to pay attention, and even the latest news.
4. Autism Blog
Lisa Jo Rudy is the mother of Tommy, age 14, diagnosed with PDD-NOS — an Autism spectrum disorder. She is also a professional writer, researcher and consultant. Her expert blog for About.com is full of entries such as speech therapy, early trials, and more.
5. Age of Autism
Click here for a daily web newspaper of the Autism epidemic. They share papers, reports, and other pertinent information. You can also check the A through Z categories on many broad topics.
6. Action for Autism
Mike Stanton is from the United Kingdom where he teaches children with learning difficulties. He also has a son with Asperger's syndrome and is a member of the National Autistic Society. Support for all those affected by Autism spectrum disorders is abundant.
7. Autism Street
Dad of Cameron gives a guided tour through the often misinformed public on Autism. Bizarre medical practices, hidden challenges, and successes are all featured. Reviews of other blogs and news items are often the topic of posts.
8. Autism Podcast
Over 90 episodes and counting can have both teachers and parents spending hours learning from experts. Michael Boll includes the story of many families with autism, along with leading experts in the field. A recent episode was on adults with autism.
Great Blogs & Links for Autism Teachers by a Parent
The first word on children with Autism, parents of children with ASD blog below to give a better understanding of it.
9. Autism is not the Boss
Mae is a parent mentor and advocate for people with disabilities. She believes in inclusion and self determination just as she has shown with her son with a PDD-NOS diagnosis. Get product recommendations, advocacy, and educational tips all on one blog.
10. Autism & Public School
The blogger's son has high-functioning autism and attends an experimental public school program in New York City for children on this end of the Autism scale. The blog is her attempt to chronicle the journey through this experimental education and share other items of interest. A recent blog entry was on the progress of the last year.
11. Autism Twins
Kal has two twin boys who were both diagnosed on the Autism spectrum. Family life, both good and bad, is shared here. Pictures and stories are usually the topics of posts.
12. The Autism Blog
Risa is from California where she shares the trials and tribulations of a family with a child with Autism. She left her job at a medical device company to focus more on her children and began this blog. It focuses on exploration, raising children, and discussion of therapies and treatment.
13. Skinny Kids
This blog is an attempt to document the lives of two children, Michael and Laurel. Their mother intends for this to be their virtual baby book and has struck a note with the rest of the blogging world. Stories, successes, and more are shared.
14. Autism Parents
"Sweet Caroline" is the inspiration of the blog and can be seen in various pictures. Her dad also blogs on many interesting aspects of the disease, along with entries on daily life. Be sure not to miss the recipes especially for families with Autism.
15. Wrong Planet
Both individual and parents are encouraged to engage in the discussion forum here. There are also expert articles, and much more. Be sure not to miss Autism Talk TV with more.
Great Community Blogs & Links for Autism Teachers
Check out the below to read and share stories regarding autism.
16. Autism Society
All those affected by Autism can visit here to share stories, get news, and more. Teachers will enjoy the Professional section with items just for them. You can also get free downloads, an online art exhibit, and tons of other tools.
17. Moms Fighting Autism
Visit here to create a profile and meet tons of parents of children with autism. The site is updated constantly with blog entries and stories. You can also click to learn more about the Autism webinar series.
18. Child Autism Parent Cafe
Helping children with Autism reach their full potential is the focus of this blog. Topics include education, schools, coping, and much more. They even have a Google search within their own site.
19. Autism Blogger
Their mission is to allow people who have been affected by Autism to share their stories, provide support, and to help others. Videos and images are also included. Recent entries are even on the principles of behavior and negative reinforcement.
20. Visual Supports in Autism
This company provides special teaching tools for children with Autism. However, the blog has loads of useful tips on what they are and how they work. A recent entry was on teaching aids for Autism.
21. Easter Seals and Autism
This group is founded specifically to help people and families with disabilities. With a special section for Autism they have useful resources such as the warning signs of Autism and the disease after age 21. There are also loads of stories to read and share on the site.
22. Autism and PPD Support Network
Support to cope with Autism spectrum disorders is featured here. Learn more about the basics of Autism, along with useful links to resources by state. They also have a support forum and message boards.
23. Autism Women's Network
Mothers, teachers, and other women with Autism in the family are encouraged to visit here. Their mission is to provide effective supports to Autistic females of all ages through a sense of community, advocacy, and resources. They also have useful blog entries right on the homepage.
24. iCan
The Interactive Collaborative Autism Network is sponsored by the U.S. Department of Education to support those affected with Autism. It was developed with teachers and other support specialists in mind who want to learn more. It also offers instructional modules and other relevant information.
Great Educational Blogs & Links for Autism Teachers
These blogs and sites focus on the educational challenges of Autism.
25. I Teach Autism
A special education teacher with a class full of autistic students is the author of this blog. Along with a team of Autism advocates, they discuss the educational aspects of the disease. Get resources on teaching, Asperger syndrome, sensory overload, and much more.
26. Model Me Kids
The documentary on children with Autism is reason enough for teachers to visit here. A teacher shares her experiences with these special children in the ten minute film. They also have other tools for teachers.
27. Autism Teaching Tools
Juliet Burk founded Autism Teaching Tools in 2002 as a resource to help parents and professionals find specific tools and teaching tips for working with learners with Autistic spectrum disorders. As a parent of two ASD children, she knows firsthand how to educate children with Autism. Choose from art, safety, music, a blog, and more.
28. Practical Autism Resources
This site is dedicated to the support of the hard-working individuals who are key players in the lives of children with Autism. Resources, tips, and more are included. They recently just released a CD with even more.
29. Aspie Teacher
Sandy was diagnosed with Asperger's syndrome and has an M.S. in Education. Previously employed as a teacher, she has experienced struggles in education, employment, and personal life. Must read entries on the blog include "Getting to Yes with Accommodations" and "Why Closed Captioning Isn't Just for Deaf People."
30. Simply Robert
He is an elementary music and vocabulary teacher and even teaches presentation delivery and Autism to adults. Bible classes and Asperger's syndrome are another area of Robert's expertise. His favorite posts are on Obama myths and child friendly fonts.
31. Spectrum Siblings
Both an Autistic college student and ABA therapist blog here. The focus is on how to thrive on the Autism spectrum. Autistic traits are often featured and discussed.
32. The Thinking Person's Guide to Autism
The editors at this blog and site help parents and teachers make informed decisions with love. Entries include divorce rates, a daily record, special ed 101, and more. You can even send in your own story.
33. The Coffee Klatch Blog
Parents of special needs children gather here to discuss challenges. Often taking on the topic of education, it is a good choice for teachers. One of the latest posts was on the challenges of going back to school.
Great Blogs & Links for Autism Teachers by an Autistic.
For various reasons, these blogs and sites are a must read for teachers and others involved with Autism.
34. Autist's Corner
Lindsay is from Kansas and was diagnosed with PDD-NOS at age five. A recent university graduate, she has degrees in biochemistry and English literature. See Autism from the other side in this must view blog.
35. Aspie Rhetor
This Autistic blogger is also a Ph.D. candidate at Ohio State. Tags include advocacy, rhetoric, scholarship, and more. A recent blog was on passivity.
36. Cat in a Dog's World
Thoughts on self advocacy from an Autistic cat lover are shared here. Sarah comments on everyday life, in addition to her condition. A recent entry was on what it truly means to be normal.
37. LoriB.me
After a successful career and relationship, Lori found out that she had Asperger's syndrome. It actually came as a relief. Life with Asperger's, normalcy, and why to not fix it are all discussed.
38. The Art of Being Asperger Woman
Aspie Bird writes on "the fun of life and the way I deal with Asperger's." A video bar shows just that. There are also blog entries on topics such as things to celebrate.
39. Drive Mom Crazy
Jason Ross is 29 and has Asperger's syndrome. Fascinated by medicine, he does not necessarily attempt to drive his mother to madness. However, his blog is full of an insider opinion on the news and developments on Autism spectrum disorders.
40. Neurodiversity Weblog
Autism spectrum disorders are the focus of this neuro blog. OSR and the FDA are recent subjects of posts. You can also get tons of other articles.
41. Comet's Corner
Clay is a literal jack of all trades having worked as everything from a burger flipper to independently employed and financially stable. Read about all his experiences, including those with Autism, on his blog. It is lengthy and full of inspired thoughts.
42. Counting Time
This 30 something "geek girl" was given the label of Autism and Asperger's syndrome at 35. Her blog is an attempt to incorporate these new labels into her life, to write about what it is like to find out you are on the spectrum as an adult, and explore the world of Autism.
43. More Than a Number
Brandy is a self-proclaimed "opinionated Christian Autistic 21 year old." She also has Septo Optic Dysplasia and Bipolar Disorder. Check out her blog to get must read entries such as "Things I Don't Say About Autism But Want To."
44. Misadventures from a Different Perspective
This website is part of the Autism-assembly and a coalition of members of the Autistic community who share the common goal of seeking acceptance for those on the Autistic spectrum. They aim to educate about Autism do not seeking a cure for it.
Great Niche Blogs & Links for Autism Teachers
These blogs capture other aspects of autism spectrum disorders.
45. Hyperlexicon
This family suffers from Hyperlexia, one of the Autism spectrum disorders. Christa, the mother, gives observations on everything from challenges to social skills. A recent entry was on a show that helped her child.
46. Autistic Amoeba
Anemone writes a treasure trove of essays and critiques of research on autism. There is also a film blog that dispels many myths seen on screen.
47. Amblyopia Kids
Amblyopia, or lazy eye, can be found in autistic children as well as others. Learn more about the condition and treating it from this blog. Reviews, resources, and more are shared.
48. Adventures in ASD and GFCF Living
Erin is a gluten, casein, and corn free cook and mother. All of the recipes on her blog are allergy friendly and useful to families in the Autism spectrum disorder. A recent recipe was on wings.
49. Naked Brain Ink
Lindsey Nebeker is a young woman living in Washington D.C. in her 20's who writes on romance, relationships, and related items. Her Autism gives a unique view to all and is a good read for any adult.
50. Medical News Today
Get the latest headlines on Autism spectrum disorders here. Updated often, the latest news is on robots and brain scans for Autism. There is also a guide to what Autism is and a video library.
Whether a teacher with decades of experience or a parent who has just got some bad news, there is loads to learn and teach on the above 50 great blogs and links for Autism teachers. If you suspect a child is Autistic, consult a physician right away, as time is an important factor in diagnosing and treating ASD.